[et_pb_section fb_built="1″ custom_padding_last_edited="on|phone" admin_label="section" _builder_version="4.16″ background_color="#ffffff" background_image="https://lincolnroad.com/wp-content/uploads/2016/01/busy-lincolnroad-shoppers-pm.jpg" min_height="500px" custom_margin="0px||" custom_padding="7%||7%||true" custom_padding_tablet="50px|0|50px|0″ custom_padding_phone="||||true" transparent_background="off" make_fullwidth="off" use_custom_width="off" width_unit="on" global_colors_info="{}"][et_pb_row column_structure="1_3,2_3″ admin_label="row" _builder_version="4.16″ background_size="initial" background_position="top_left" background_repeat="repeat" width_tablet="" width_phone="" width_last_edited="on|phone" custom_margin="0px||||false" custom_padding="0px||" global_colors_info="{}"][et_pb_column type="1_3″ _builder_version="4.16″ custom_padding="|||" global_colors_info="{}" custom_padding__hover="|||"][/et_pb_column][et_pb_column type="2_3″ _builder_version="4.16″ custom_padding="|||" global_colors_info="{}" custom_padding__hover="|||"][et_pb_divider show_divider="off" disabled_on="off|off|off" admin_label="Divider" _builder_version="4.16″ height="211px" height_tablet="" height_phone="100px" height_last_edited="on|phone" max_height_tablet="" max_height_phone="" max_height_last_edited="on|desktop" hide_on_mobile="on" global_colors_info="{}"][/et_pb_divider][et_pb_text admin_label="Text" _builder_version="4.16″ text_font="Poppins||||||||" text_text_color="#ffffff" text_font_size="72″ text_line_height="1.1em" header_font="||||||||" background_size="initial" background_position="top_left" background_repeat="repeat" max_width="720px" custom_margin="0px||0px|" custom_padding="50px||||false" text_font_size_tablet="52″ text_font_size_phone="32px" text_font_size_last_edited="on|phone" use_border_color="off" border_color="#ffffff" border_style="solid" global_colors_info="{}"]
SOUTH BEACH
[/et_pb_text][/et_pb_column][/et_pb_row][/et_pb_section][et_pb_section fb_built="1″ custom_padding_last_edited="on|desktop" admin_label="Section" _builder_version="4.16″ background_color="#f7f7f4″ max_width="1080px" module_alignment="center" custom_padding_tablet="30px|0|50px|0||" custom_padding_phone="" transparent_background="off" padding_mobile="off" make_fullwidth="off" use_custom_width="off" width_unit="on" global_colors_info="{}"][et_pb_row padding_mobile="on" column_padding_mobile="on" admin_label="row" _builder_version="4.16″ background_size="initial" background_position="top_left" background_repeat="repeat" width="90%" custom_padding="0px|||" make_fullwidth="off" use_custom_width="off" width_unit="on" global_colors_info="{}"][et_pb_column type="4_4″ _builder_version="4.16″ custom_padding="|||" global_colors_info="{}" custom_padding__hover="|||"][et_pb_post_title date="off" comments="off" featured_image="off" _builder_version="4.16″ title_level="h2″ title_font="||||||||" title_font_size="43px" title_font_size_tablet="31px" title_font_size_phone="" title_font_size_last_edited="on|tablet" global_colors_info="{}"][/et_pb_post_title][et_pb_text admin_label="Text" _builder_version="4.18.0″ text_font="PT Serif||||" text_text_color="#363636″ text_font_size="20″ text_line_height="1.5em" header_font="||||||||" header_2_font="Poppins||||||||" background_size="initial" background_position="top_left" background_repeat="repeat" width="100%" max_width="1080px" custom_margin="13px||0px|||" hover_enabled="0″ text_font_size_tablet="" text_font_size_phone="" text_font_size_last_edited="on|tablet" use_border_color="off" border_color="#ffffff" border_style="solid" global_colors_info="{}" sticky_enabled="0″]
There's so much to love about South Beach—the gorgeous weather, the beach, the fantastic shopping and dining, and the nightlife.
The beach's excellent people-watching is another reason that locals and tourist love South Beach.
Take a few hours to kick back in the sun along Ocean Drive or enjoy the scene from any of the outdoor restaurants and cafés on Lincoln Road – there's plenty of great of people-watching to enjoy.
If you're like most visitors, you've come to South Beach to relax, swim in the crystal clear ocean, and sunbathe on our beautiful beaches. The beach is also one of our best people-watching locales.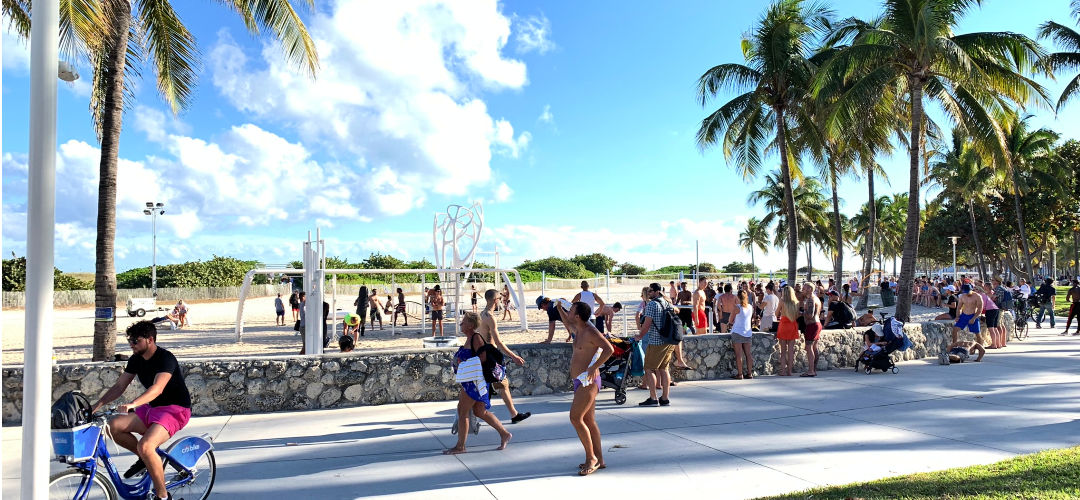 Lummus Park (Ocean Drive boardwalk) is always buzzing with activity. Grab a seat and enjoy hours of amazing people-watching. More Info
Lummus Park
Ocean Drive between 5 Street and 14 Place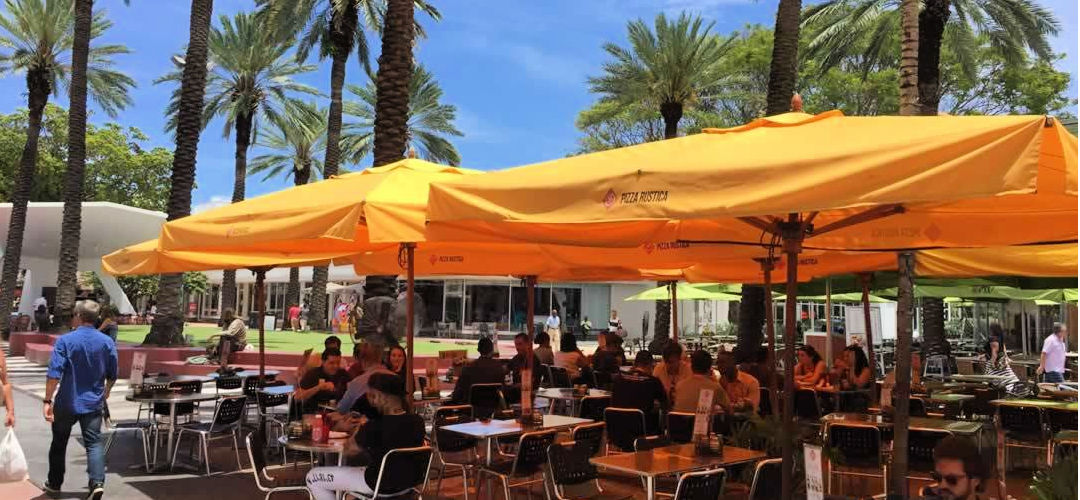 Let Pizza Rustica's bright yellow umbrellas be your beacon for huge squares of piping hot pizza and great people-watching on Lincoln Road.
Pizza Rustica
667 Lincoln Road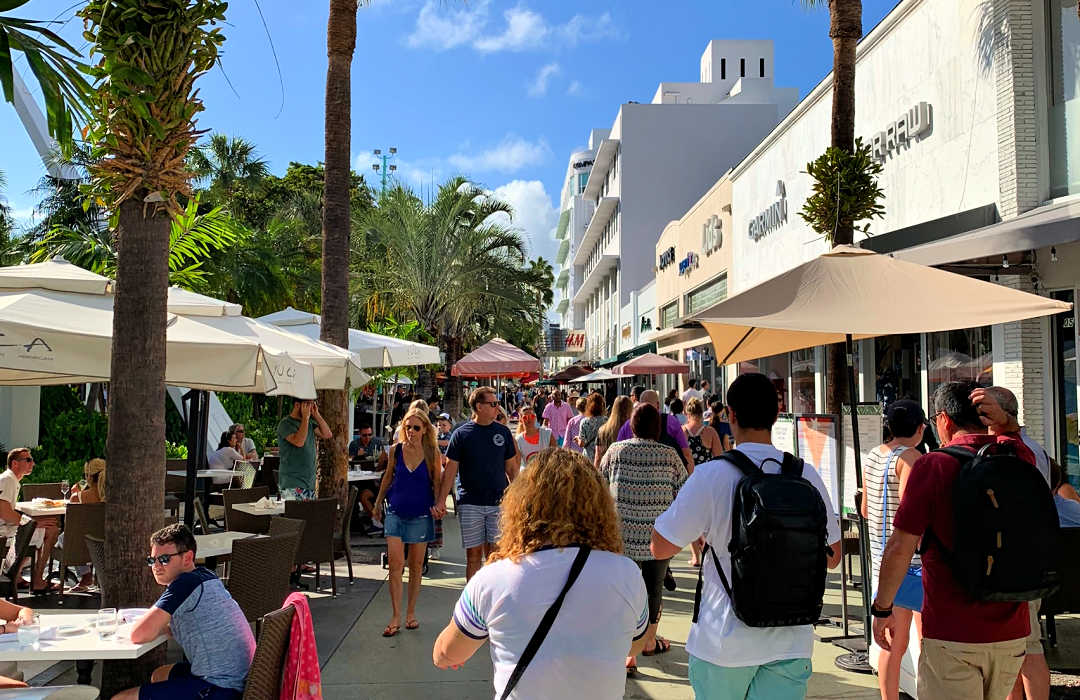 Lincoln Road is often voted as the best place to people-watch in Miami. This mostly-pedestrian, open-air shopping destination is only a few blocks from the beach and is noted for its weekly farmers market, sidewalk cafes and its variety of stores.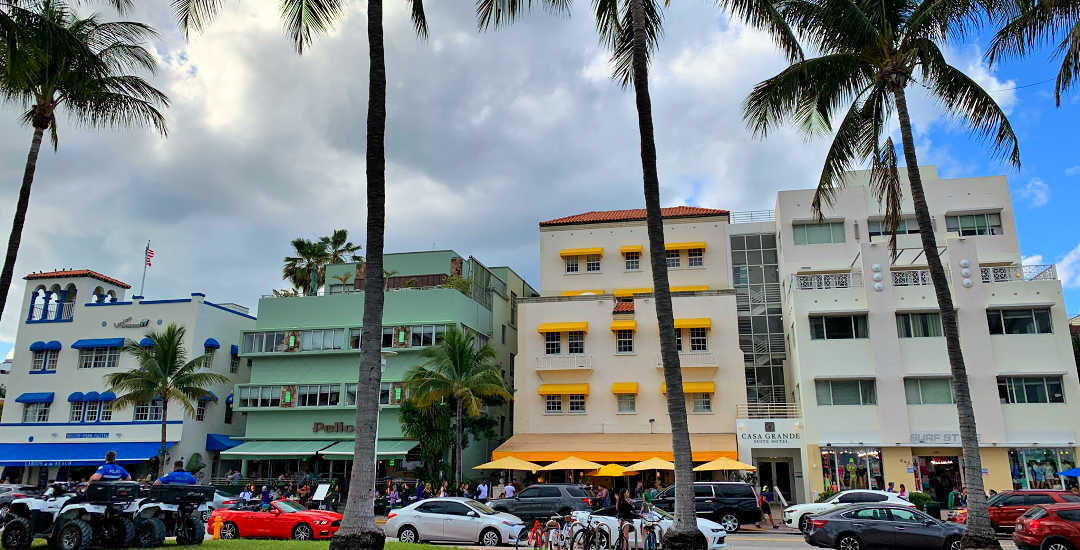 Visitors, from all over the world, flock to South Beach's Ocean Drive. They come to experience its happening vibe, famous Art Deco architecture, colorful neon signs, and the weekend parties. More info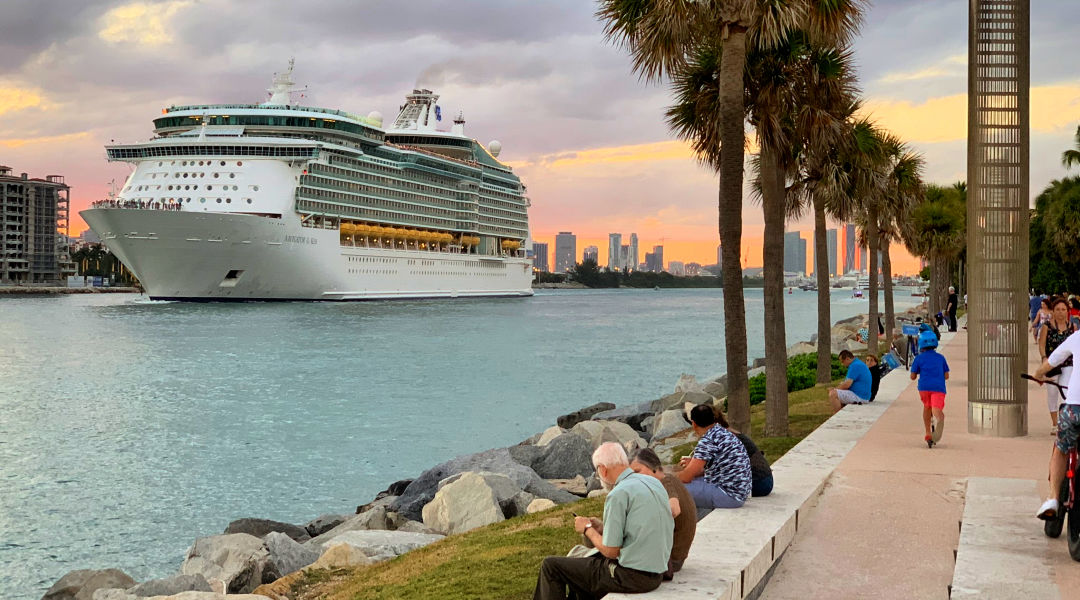 South Pointe Park is a beautiful 17-acre park and pier located on the southern-most tip of Miami Beach. Stroll out on the South Pointe Pier and watch as anglers reel in their catch and get a close-up of giant cruise ships gliding through Government Cut. More Info
After a long day of sightseeing, make your way to Lincoln Road for eats, drinks, and an evening of great people-watching.  Have a fun time!
[/et_pb_text][/et_pb_column][/et_pb_row][et_pb_row padding_mobile="on" column_padding_mobile="on" custom_padding_last_edited="on|tablet" admin_label="Row" _builder_version="4.16″ background_size="initial" background_position="top_left" background_repeat="repeat" custom_padding="50px|||" custom_padding_tablet="17px|||" custom_padding_phone="" make_fullwidth="off" use_custom_width="off" width_unit="on" global_colors_info="{}"][et_pb_column type="4_4″ _builder_version="4.16″ custom_padding="|||" global_colors_info="{}" custom_padding__hover="|||"][et_pb_image src="https://lincolnroad.com/wp-content/uploads/2017/05/026.jpg" show_bottom_space="off" align_tablet="center" align_phone="" align_last_edited="on|desktop" admin_label="Image" _builder_version="4.16″ animation_style="fade" animation_duration="500ms" use_border_color="off" border_color="#ffffff" border_style="solid" animation="fade_in" sticky="on" global_colors_info="{}"][/et_pb_image][et_pb_text admin_label="Text" _builder_version="4.16″ text_font="PT Serif||on||" text_text_color="#363636″ text_font_size="16″ text_line_height="1em" background_size="initial" background_position="top_left" background_repeat="repeat" custom_margin="20px||0px|" use_border_color="off" border_color="#ffffff" border_style="solid" global_colors_info="{}"]See you on Lincoln Road.[/et_pb_text][et_pb_text admin_label="Text" _builder_version="4.16″ text_font="PT Serif||on||" text_text_color="#363636″ text_font_size="12″ text_line_height="1.2em" background_size="initial" background_position="top_left" background_repeat="repeat" custom_margin="6px|||" use_border_color="off" border_color="#ffffff" border_style="solid" global_colors_info="{}"]Photograph by Iris Micou via
LincolnRoad.com
[/et_pb_text][/et_pb_column][/et_pb_row][/et_pb_section][et_pb_section fb_built="1″ admin_label="Section" _builder_version="4.16″ global_colors_info="{}"][/et_pb_section][et_pb_section fb_built="1″ admin_label="Section" _builder_version="4.16″ background_color="#222222″ custom_padding="0px|||" custom_padding_tablet="0px|||" transparent_background="off" padding_mobile="on" make_fullwidth="off" use_custom_width="off" width_unit="on" locked="off" global_colors_info="{}"][et_pb_row column_structure="1_3,1_3,1_3″ use_custom_gutter="on" gutter_width="2″ padding_mobile="on" column_padding_mobile="on" admin_label="Row" module_class=" et_pb_row_fullwidth" _builder_version="4.16″ background_size="initial" background_position="top_left" background_repeat="repeat" width="94%" width_tablet="80%" width_phone="" width_last_edited="on|desktop" max_width="94%" max_width_tablet="80%" max_width_phone="" max_width_last_edited="on|desktop" custom_padding="40px|||" make_fullwidth="on" use_custom_width="off" width_unit="on" global_colors_info="{}"][et_pb_column type="1_3″ _builder_version="4.16″ custom_padding="|||" global_colors_info="{}" custom_padding__hover="|||"][et_pb_image src="https://lincolnroad.com/wp-content/uploads/2016/01/happyhour-megamenu.jpg" url="https://lincolnroad.com/happy-hours-lincoln-road/" show_bottom_space="off" align="center" force_fullwidth="on" align_tablet="center" align_phone="" align_last_edited="on|desktop" admin_label="Image" _builder_version="4.16″ animation_style="fade" animation_duration="500ms" use_border_color="off" border_color="#ffffff" border_style="solid" animation="fade_in" sticky="on" global_colors_info="{}"][/et_pb_image][et_pb_text admin_label="Text" _builder_version="4.16″ text_font="PT Sans|on|||" text_text_color="#888888″ text_font_size="12″ text_letter_spacing="2px" text_line_height="1.2em" background_size="initial" background_position="top_left" background_repeat="repeat" text_orientation="center" module_alignment="center" custom_margin="30px|||" use_border_color="off" border_color="#ffffff" border_style="solid" global_colors_info="{}"]
DRINKS ON LINCOLN ROAD
[/et_pb_text][et_pb_text admin_label="Text" _builder_version="4.16″ text_font="PT Sans|||on|||||" text_text_color="#ffffff" text_font_size="24″ text_line_height="1.2em" background_size="initial" background_position="top_left" background_repeat="repeat" text_orientation="center" module_alignment="center" link_option_url="https://lincolnroad.com/happy-hours-lincoln-road/" use_border_color="off" border_color="#ffffff" border_style="solid" global_colors_info="{}"]
Checkout These Lincoln Road Happy Hours
[/et_pb_text][/et_pb_column][et_pb_column type="1_3″ _builder_version="4.16″ custom_padding="|||" global_colors_info="{}" custom_padding__hover="|||"][et_pb_image src="https://lincolnroad.com/wp-content/uploads/2016/01/Paul-Cafe-megamenu.jpg" url="https://lincolnroad.com/local-restaurant-favorites/" align="center" force_fullwidth="on" align_tablet="center" align_phone="" align_last_edited="on|desktop" admin_label="Image" _builder_version="4.16″ animation_style="fade" animation_duration="500ms" use_border_color="off" border_color="#ffffff" border_style="solid" animation="fade_in" sticky="off" global_colors_info="{}"][/et_pb_image][et_pb_text admin_label="Text" _builder_version="4.16″ text_font="PT Sans|on|||" text_text_color="#888888″ text_font_size="12″ text_letter_spacing="2px" text_line_height="1.2em" background_size="initial" background_position="top_left" background_repeat="repeat" text_orientation="center" module_alignment="center" custom_margin="30px|||" use_border_color="off" border_color="#ffffff" border_style="solid" global_colors_info="{}"]
EAT LINCOLN ROAD
[/et_pb_text][et_pb_text admin_label="Text" _builder_version="4.16″ text_font="PT Sans|||on|||||" text_text_color="#ffffff" text_font_size="24″ text_line_height="1.2em" background_size="initial" background_position="top_left" background_repeat="repeat" text_orientation="center" module_alignment="center" link_option_url="https://lincolnroad.com/local-restaurant-favorites/" use_border_color="off" border_color="#ffffff" border_style="solid" global_colors_info="{}"]
Local  Restaurant Faves
[/et_pb_text][/et_pb_column][et_pb_column type="1_3″ _builder_version="4.16″ custom_padding="|||" global_colors_info="{}" custom_padding__hover="|||"][et_pb_image src="https://lincolnroad.com/wp-content/uploads/2016/01/MiamiBeachTrolley-500x300px.jpg" url="https://lincolnroad.com/free-south-beach-trolley/" align="center" force_fullwidth="on" align_tablet="center" align_phone="" align_last_edited="on|desktop" admin_label="Image" _builder_version="4.16″ animation_style="fade" animation_duration="500ms" use_border_color="off" border_color="#ffffff" border_style="solid" animation="fade_in" sticky="off" global_colors_info="{}"][/et_pb_image][et_pb_text admin_label="Text" _builder_version="4.16″ text_font="PT Sans|on|||" text_text_color="#888888″ text_font_size="12″ text_letter_spacing="2px" text_line_height="1.2em" background_size="initial" background_position="top_left" background_repeat="repeat" text_orientation="center" module_alignment="center" custom_margin="30px|||" use_border_color="off" border_color="#ffffff" border_style="solid" global_colors_info="{}"]
GO
[/et_pb_text][et_pb_text admin_label="Text" _builder_version="4.16″ text_font="PT Sans||||" text_text_color="#ffffff" text_font_size="24″ text_line_height="1.2em" background_size="initial" background_position="top_left" background_repeat="repeat" text_orientation="center" module_alignment="center" link_option_url="https://lincolnroad.com/free-south-beach-trolley/" use_border_color="off" border_color="#ffffff" border_style="solid" global_colors_info="{}"]
RIDE THE FREE NIAMI BEACH TROLLEY
[/et_pb_text][/et_pb_column][/et_pb_row][/et_pb_section]