Developer Michael Shvo secured a $190 million refinance for the construction of Rosewood-branded Raleigh hotel and condo project in Miami Beach, adding to a handful of large loans condo developers have recently secured in South Florida.
Read the original article here.
Shvo, Deutsche Finance and a group of German institutional pension funds are redeveloping the Raleigh, South Seas and Richmond hotels at 1751, 1757 and 1775 Collins Avenue into a 60-key luxury hotel and 42-unit condo building. Construction is underway and it could be completed in 2026, according to a press release.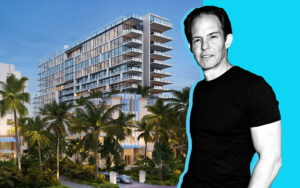 BH3's opportunistic credit platform, BH3 Debt Opportunity Fund II, is the lender. The financing pays off and replaces a previous loan from Acore Capital that the developer used to acquire the 3-acre assemblage in 2019 for about $243 million. Walker & Dunlop arranged the new financing.
Peter Marino is working with Kobi Karp Architecture & Interior Design to design the project, which calls for restoring and renovating the historic hotel buildings and constructing a separate 17-story oceanfront condo tower. Rosewood Hotels & Resorts will manage the hotel and residential component. The project will also include a private members' club.
In May, Shvo tapped Oren and Tal Alexander's Official to lead condo sales, which have been described as "invitation-only."
Shvo and Deutsche Finance America bought the hotels in partnership with Turkish investor Serdar Bilgili's Bilgili Holdings. Bilgili's firm has since exited the project following a court settlement of a dispute with Shvo.
The partners borrowed $97.5 million from Acore around the time of the 2019 purchase but then boosted, with the principal listed in a March document being $146.9 million, according to records. A filing on Wednesday signals Shvo's affiliate paid off the Acore financing.
Other major developers have been able to lock down construction loans in recent months, despite the challenging environment for new financing.
This month, Witkoff and Monroe Capital secured $430 million in construction financing from J.P. Morgan for their Shore Club project near the Raleigh in Miami Beach. Auberge Resorts will manage the luxury condo and resort development planned for 1901 Collins Avenue, which is being designed by New York-based Robert A.M. Stern alongside Karp. The Shore Club development is similar to the Raleigh in that it also involves a major restoration and renovation of a historic oceanfront Miami Beach property.
In May, Madison Realty Capital provided a $340 million loan to Dan Catalfumo's Catalfumo Companies for the planned Ritz-Carlton Residences, Palm Beach Gardens.
BH3 Management, led by Greg Freedman and Dan Lebensohn, is looking to deploy capital into developments and other ventures. The company recently partnered with the Motwani family's Merrimac Ventures to take over a long-stalled development on Miami's Watson Island. The company,
Shvo is also taking a gamble on Miami Beach's office market. The firm is expected to start construction early next year of an office project with some residences at 1656, 1664,1676 and 1680 Alton Road and 1677 West Avenue. The developer bought the commercial strip, which once was home to the Epicure Gourmet Market & Café, for $39.3 million last year. Nearby, Shvo is planning a six-story office building at 1665-1667 Washington Avenue.
On Lincoln Road, the firm wants to redevelop the aging clock tower building at 407 Lincoln.