South Beach Jazz Festival
January 4-7, 2024
Tickets on sale October 16 at sobejazzfestival.com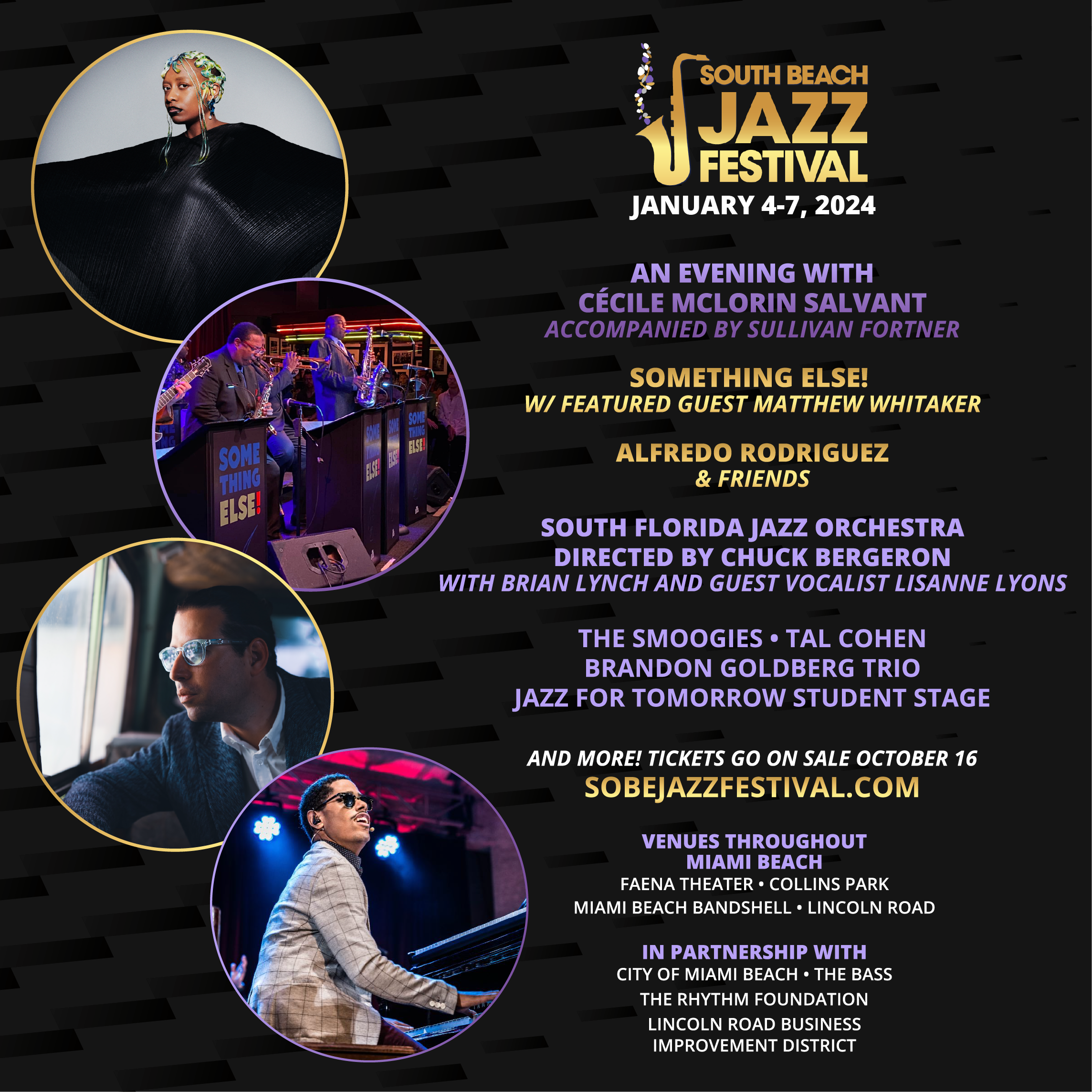 The 8th Annual Power Access South Beach Jazz Festival
Lincoln Road BID Sponsorship Proposal
The South Beach Jazz Festival returns January 4th-7th, 2024! Over the last 7 years the South Beach Jazz Festival has grown into one of the premier cultural events in South Florida, with our 2023 festival surpassing all prior attendance numbers with all ticketed performances "sold out", the free performances at capacity crowds and excellent reviews, promotion and reception for all.
The "Live on Lincoln", all day free programming on the last day of the day festival, has become a cornerstone of The South Beach Jazz Festival, and the Miami Beach cultural arts scene. The Power Access main stage was expanded in 2023 with national and international jazz stars joining local favorites. The addition of the full day of Saturday programming at our Jazz for Tomorrow stage in 2022 and expanded in 2023 is growing more in 2024. The support of the Lincoln Road BID has made this possible.
As we enter year 8, we continue to build on the success of the past and look to the future. We have increased our marketing, artist and production budgets significantly, and continue elevating programming with music production by The Rhythm Foundation and sound by Signature Production Services. We expanded to a 4 day festival with the addition of a ticketed Thursday night performance at Faena and added a ticketed Friday night performance at The Bass in 2023. The Miami Beach Bandshell concert on Saturday night is now live streamed and simulcast on WDNA. We sold out the Bandshell, Faena and Bass events. Lincoln Road is promoted at all performances.
We had over 4000 attendees to our free Lincoln Road stages in 2022 and 2023. We increased our individual performances and a master classes on Lincoln Road, including local, student, regional, national, and internationally acclaimed acts while promoting accessibility and inclusion. For 2024, we will continue growing this successful programming on Lincoln, increasing performances, marketing, and activations.
We are thrilled with the positive growth and expansion of the South Beach Jazz Festival over the years, and the support of the Lincoln Road Business Improvement District has been critical in our success. Our free public programming on Lincoln Road represents the cornerstone of the festival and allows us to share our mission of disability awareness, inclusion, access, and opportunity though high quality cultural programming to a large and diverse audience of residents and guests to our city at a venue that is the very best of Miami Beach and South Florida. Live on Lincoln Sponsor benefits and activations:
Saturday and Sunday January 6-7, 2024
Saturday January 6th, 2024
Jazz For Tomorrow Stage
The Plaza at 1100-1111 Lincoln Plaza
11am to 6pm
All day programming with award winning youth bands, activations and a master classes. Nicole Yarling returns as our youth stage director. We are moving to the 1100-1111 Plaza for Jazz for Tomorrow expanding the family friendly  activations.
Sunday January 7th, 2024
Power Access Main Stage
The Plaza at 1100-1111 Lincoln Road
11am -8pm
A full day of major local, regional, and international jazz acts performing from the main stage at the 1100-1111 Plaza. In 2023 we successfully expanded the hours, seating, activations and number of performances including multiple headliners which will be continued and enhanced in January 2024. This will be a day of free, high quality programming, and the finale of the South Beach Jazz Festival. We have very exciting talent coming!
Throughout the weekend and throughout the year.
*Solo performers on Lincoln Road at other locations during the weekend.
*Promotion of Lincoln Road as a major Partnering Sponsor of The South Beach Jazz Festival and supporter of Power Access at all activations, in marketing and PR year round. We have expanded our Power Access year round programming dramatically since 2022. We held the second annual South Beach Jazz Honors and Awards Brunch, a scholarship event, this past May, have the upcoming 2nd annual South Beach Jazz Summer Series in partnership with Miami Beach On Stage, and have more individual supporter and pop up events in planning throughout the year.
The South Beach Jazz Festival 2024 Budget: $237,000
*Budget excludes in-kind, waivers & Power Access annual expenses.
Lincoln Road BID Sponsorship: $20,000
Information & Tickets